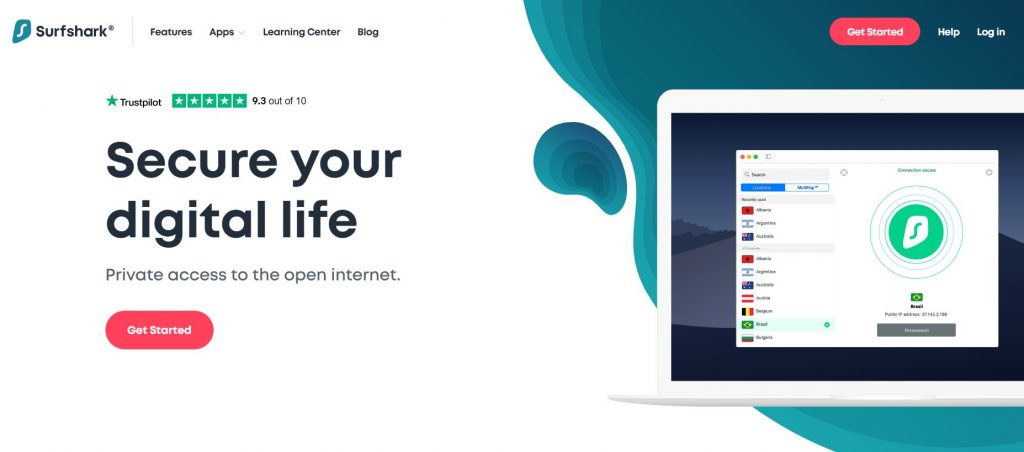 Surfshark is a newer VPN service provider, based in the British Virgin Islands, that claims to offer incredible speeds, unblock streaming content and also secure your data. But is it any good and should you consider buying it? Let's find out. 
VPN Servers
One of the most important aspects of a VPN service is their number of servers, the more they have the better the service. Why? Well simply because there are many websites out there that are constantly trying to block VPN servers, and if a provider has more servers, then that means you can enjoy your favorite content without fearing that your VPN IPs will get blacklisted. 
Another good reason for having a high amount of servers in many countries around the globe is the speed of the connection (we will talk about that in the next point), and also since there are hundreds of thousands or maybe millions of people using the same VPN service, it can get a little bit crowded, and without that many servers, your browsing speed will start to suffer. 
Ok, so how many VPN servers does Surfshark have?
Surfshark VPN has over 500 servers in 50+ countries. It's not a really small number since there are many VPN services out there with an even way less number of servers than that…
Yes, there are some VPN providers out there that have even 5000+ servers, such as NordVPN, but that doesn't mean 500 aren't enough, and I'm sure that they will be adding more and more as they continue to grow.
Server Speeds
The server speeds are not that bad actually, you have to remember that using a VPN, will always slow down your actual internet speed. In my tests, I used a VPN server at 2000 miles away from my location (which is a pretty long distance, and internet speed and ping drops significantly without using a VPN anyway).
I used SpeedTest.net for my tests, and I know some people might think that they don't show you the actual real speed etc, but the reason I'm using it is because so many regular people will use it to test their speed this way, and I might as well use it myself for these tests.
I used my phone to connect from my location somewhere in central Europe to a server in London without a VPN, my Internet download speed is: 73.99/mbps and upload: 36/mbps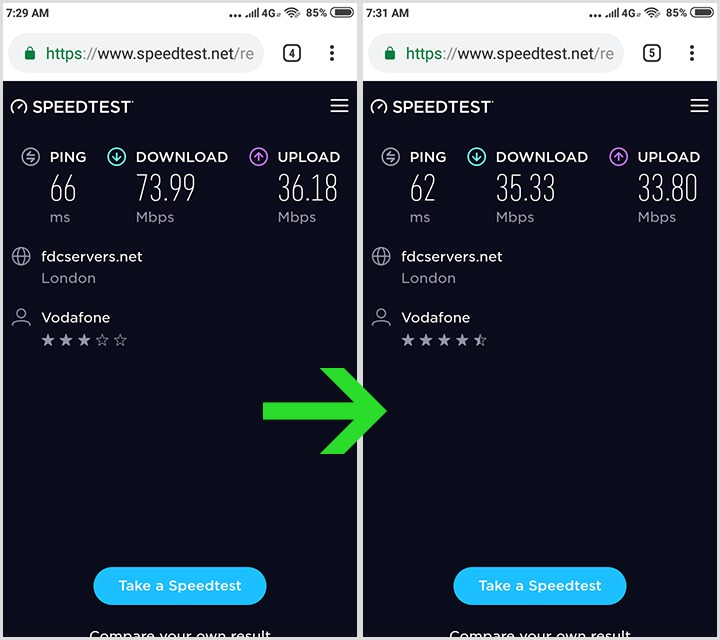 With the VPN on, connected to a server in London, I did the same test again on the same London server as before but this time with the VPN on and I got a download speed of 35.33/mbps and the upload was 33.80/mbps. The ping was pretty much the same at 66 before and 62 after connecting to the VPN. 
Now you might think that losing 50% of my speed is significant, and in some ways it is, but it's not really the fault of the VPN service, you have to keep in mind that I've connected to a server 2000 miles away from my location via a VPN, and that's a pretty long distance.
So if you want a higher connection speed, you should always connect to a server closer to your home, no matter what VPN provider you're using. 
So in conclusion, the speeds you will get using Surfshark VPN as with any VPN will depend more on the location of your actual location and the location of the server you're connecting too.
Overall I give Surfshark a passing score here, as the speeds are not bad at all. I even use a server in New York and stream video content from there to Central Europe without any lagging or buffering at all. 
Devices/Operating Systems
Surfshark VPN is available on pretty much all the popular devices and operating systems such as Windows, macOS, iOS, Android, Linux, Fire TV and it even has Chrome and Firefox extensions.
I only tested their Windows & Android Apps and also the Chrome extensions, and they all worked quite nicely. 
Their desktop version is very easy to use and has a lot of features such as:
Killswitch – which disables your internet if the VPN connection drops or is turned off
CleanWeb – you can use this to block ads, trackers, and malware.
Whitelisting options for Apps and websites – for when if you would like to access specific apps/sites directly and bypassing the VPN connection
Their Android app, has a nice & clean UI and it is very simple to use, but it has one drawback: it has no killswitch. I see that a few people suggested they should implement this, and I'm sure they are working on it as we speak, but for now… the option is not there, and for that reason, this will be listed as a CON in this review.
Other than that, the app works as you would be expected, without any problems. It connects in a matter of seconds, and you can start browsing or bypassing your favorite content and websites.
But the best part when talking about devices is the fact that with Surfshark you can use their VPN on an unlimited number of devices. Usually, VPN providers will limit on how many devices you can use your account on, such as 3 or 6 etc… but not Surfshark, you can use your account on as many devices as you want. This is pretty impressive.
Protocols
The Surfshark VPN client has OpenVPN and IKEv2 protocols that are running on AES 256-bit encryption.
The OpenVPN protocol is pretty much the industry standard, as is regarded as the most reliable and trusted software to encrypt and keep your data private and secure.
It really has no real downside, it's very fast and of course very secure and reliable, while also being open source which is a major plus.
The IKEv2 protocol is much newer and advanced than OpenVPN and is also very secure and fast. Surfshark uses the IKEv2 protocol on their mobile apps (iOS and Android), as it's much easier to work with than OpenVPN and it also doesn't drain the battery that quick.
The only downside of the IKEv2 protocol is that it's not really open source and it's in fact developed by Microsoft, the real hardcore users will much prefer an open source protocol such as OpenVPN.
Luckily for you though, Surfshark provides you with both these protocols, so your data is very safe and your browsing and everything else you're doing is encrypted.
Data Logs
Since Surfshark is based in the jurisdiction of British Virgin Islands, they are not required to have a data retention by law, so basically that means that countries such as US, UK, Canada, Germany etc… can't really do anything if they want to get information about a certain user… since Surfshark is not keeping any logs of their users, and they are doing this legally.
This is, of course, a very big win, and if you are concerned about your browsing data and you don't want agencies and your government to have access to it, well with Surfshark you don't have to be worried about any of that.
Basically, they will never track or keep a log of your:
Your incoming and outgoing IP addresses;

Browsing, downloading or purchasing history;

VPN servers you use;

Used bandwidth;

Session information;

Connection timestamps;

Network traffic;
They will, however, keep some data about your account such as: 
The e-mail address that you used when you signed up (you need this to create an account and to be able to sign in)
Some information about your billing in case you want to request a refund. They won't be able to refund you if they don't keep some data about how you paid, so this makes sense.
If you really want to stay anonymous you can pay with a cryptocurrency such as Bitcoin, and use a burner email address and then you will really be off the grid and have no real traces about your identity stored.
But all in all, they get a good score on this one, since they don't keep any real logs about your connection (which is all that matters) and they are based in a jurisdiction that gives them the liberty to do this legally.
P2P/Torrent
Good news, Surfshark supports P2P/torrenting, something that many VPN providers are not really offering anymore.
The best part is that you don't need to do anything else in order to start using your favorite P2P programs such as BitTorrent or uTorrent, you just open up the VPN, select a server and you are now protected and ready to go.
Surfshark For Streaming Netflix
Here's the deal, it's pretty well known that Netflix US has a much larger library than for example Netflix Germany or Netflix Canada, France etc… for this reason many people would like to access the US version of the site, while also being located in another country. 
For that, you need a good VPN to do the job, and Surfshark again delivers on their promises and indeed it can unblock Netflix US and many other services such as Youtube, Hulu, Amazon Prive Videos, BBC iPlayer, etc. 
It's a known fact that Netflix is always "hunting" VPN providers and is always trying to block the VPN servers from accessing their site, but for some reason, it didn't yet happen with Surfshark. It's probably because they are a newer service and are not yet in the eyes of Netflix, but hey… it works, and that's all that we care about.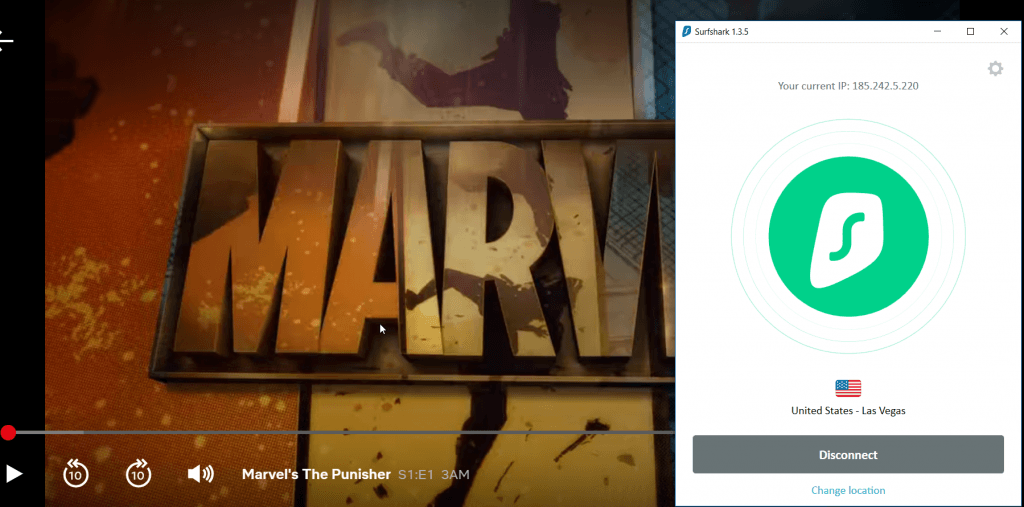 So if you wanted to unblock your favorite streaming sites, Surfshark can do the job very well.
Prices and Packages
Surfshark prices are not necessarily the lowest overall and also not really the highest, they work on a very simple system if you subscribe and pay upfront for 24 months, for example, you will get a higher discount vs paying monthly every time.
Their 2-year plan is easily more affordable and better priced than other VPN providers coming up at just $1.99 per month, but if you instead opt to only subscribe for their monthly price then, it becomes a bit higher than the average at $11.95/month.
Surfshark priced plans are as follows: 
$11.95/month (month-to-month subscription)
$5.99/month (with a 1-year purchase)
$1.99 /month (when you pay for 2 years upfront)
Money Back Guarantee
Surfshark offers a 30 Days money back guarantee, which is great if you for some reason are not satisfied with their service.
Surfshark Payment Methods
Another good way to figure out if a VPN provider is safe and secure is how they are handling the payments.
In this case, Surfshark gets a very good score again, since they accept a variety of payment methods such as:
Credit Card (Master Card, Visa, Amex, Discover) via Stripe
PayPal
TrustPay
Cryptocurrencies such as Bitcoin, Ethereum etc… via Coingate or CoinPayments
Surfshark VPN Support
Customer support is very important when you select your VPN service provider. You never know when something goes wrong or you simply need to ask a few questions more about the service. 
Surfshark has a live chat support option as well as an online help center. Their help center though could be a bit more detailed and include more information about certain things, but it's not a big deal, most of the important stuff is in there.  
I actually needed some help, because I had a problem connecting to Netflix, and their support guy Edd was very quick to help me out and fix this issue for me. 
The problem was more than likely mine and not from the VPN, you see because I was outside of my home my laptop's internet connection was tethered (basically I was using my phone's internet connection on my laptop), but nevertheless Edd was amazing and provided me with a quick fix to my problem that worked and I was ready again to enjoy my favorite Netflix shows. 
It's good to know that if you have a problem you can rely on your VPN service customer support to help you out and fix it for you. So because of that, Surfshark also scores high on this category.
Conclusion
Ah, we're finally at an end. Well if you didn't realize by now, Surfshark gets a very high score on our rankings table, for a few reasons. Even though they are new to the game, and not all that known as the other providers, they are still offering some of the best features and a robust VPN service at a good price (provided that you subscribe for their 24month plan). 
Would I recommend them? Heck yeah, it's got everything you need:
Unblocks Netflix, Hulu, BBC iPlayer, etc…
Provides top of the line security with OpenVPN/IKEv2 Protocols
Amazing customer support via live chat
No Logs and they are based in a good jurisdiction for VPNs (British Virgin Islands)
I really struggled to find some CONs, and I found a just a few, for example, I didn't like that they don't have a Killswitch option for their mobile app, and also they could have a bit more servers in more locations… I'm sure they are already working on these, and really they are not such a big deal.
They will still get our #2nd position in our best VPN ranking table, so that means that Surfshark is very good indeed.
You can get your Surfshark VPN account here, with a massive 83% discount.

Surfshark VPN
Starts from $1.99/month