SaferVPN is a professional-looking, easy to use VPN with servers in a good range of countries and great connection speeds. Its attitude to customer data and commitment to a censorship-free web is commendable, and a good pricing plan and easy access to basic level customer support makes it very accessible to new users.
Pricing & Plans
There are three pricing plans available for SaferVPN, and you get 5 Simultaneous Connections on all plans. The difference between the plans is simply the price. The longer you subscribe for upfront, the lower you will have to pay. For example, if you sign up for the 2 years plan you will only pay $78.96 upfront and enjoy SaferVPN for 2 years without any extra payments, but if you go for the monthly payment, you will have to pay $8.99 every month, which ultimately is more expensive in the long run.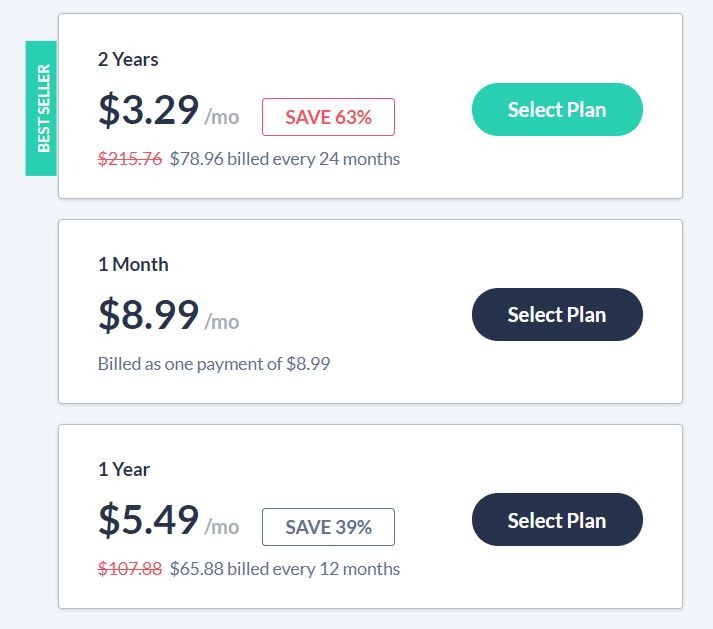 Billed annually for the Single plan, customers can pay as little as $5.49 per month – about average for a VPN.  Payment options are well-covered, with credit cards, PayPal and a number of regional web-based payment services such as Alipay and WebMoney supported, as well as Bitcoin.
Features
Founded in 2013, SaferVPN is based in Israel and has strong ties to the US. Its VPN service provides 100 servers in 24 locations, including Australia, East Asia and South America as well as the usual heartlands of Europe and North America. Between one and seven simultaneous connections can be made to SaferVPN servers depending on price plan. Use of peer-to-peer file transfer clients is prohibited in the terms of use, and although customer support maintains it's OK but "not specifically supported" from servers in the Netherlands, Poland, and a few other countries, we couldn't get file sharing to work on those servers either.
Security & Privacy
SaferVPN offers connections via PPTP, L2TP over IPSec,OpenVPN and also the newest vpn protocol IKEv2. PPTP uses 128-bit encryption while L2TP. IKEv2 and OpenVPN benefit from 256-bit encryption keys.
SaferVPN's privacy policy and terms of use are, however, pleasingly clear and specific on most things, such as the fact that they log only basic connection information: IP address, VPN server, connection times and bandwidth used.
The website
The SaferVPN website has a nice, clean design mirroring that of its clients. Features are laid out clearly on the Features page, and the most important information is easy to access – with the notable exception of some technical info such as the precise level of encryption they offer.
One nice feature is that anyone spending more than a few minutes browsing the website gets a fairly non-intrusive chat dialogue slide out with a customer service agent offering to answer any questions. While something of a sales gimmick (in the survey which is presented after a live chat session, users are specifically asked whether they decided to purchase a subscription), it's also a genuinely nice way to show that the company is interested in its customers.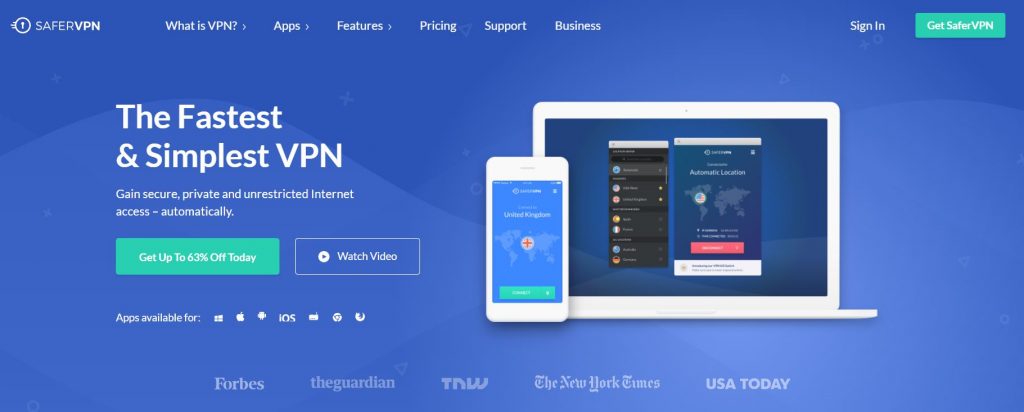 Navigation is easy, with client downloads, subscription links and help a single click away, and there's also a blog offering the usual mix of content unblocking guides, privacy advice and special offers.
Support
There is a large knowledge base full of guides for users to read and get help with their SaferVPN installation, and you can always contact them through chat or email.
Both registered and unregistered users have access to email support and a ticket system, as well as the omnipresent, 24/7 Live Chat window. Response times to both chat and tickets are excellent for more basic enquiries – we never had to wait longer than a few minutes – but users with more complicated problems or questions will have to wait significantly longer.
The Process
Signing Up
In order to get your hands on SaferVPN you will have to purchase it first from their official website. Click on the big "Get SaferVPN" green button, chose the perfect payment plan that's right for you,  and enter some basic information such as your email address and of course your payment details. Notably, no billing address was requested for credit card users, and the option to pay by Bitcoin means that full anonymity is theoretically possible.
The Windows VPN client
It can be difficult for VPN clients to strike a balance between usability and usefulness, but SaferVPN's client gets it nearly right. It's clean, attractive and very easy to use. Countries are selected in the bold list on the left side, and can be quickly favourited by clicking a star icon just like you might find in your browser. The main area on the right has a large Connect/Disconnect button which changes colour depending on status, and some useful information such as your current IP. Options to change connection protocol are packaged away on a second screen, along with the choice to start the client with Windows. Support and account links are also provided. Overall, the effect is pleasing and professional.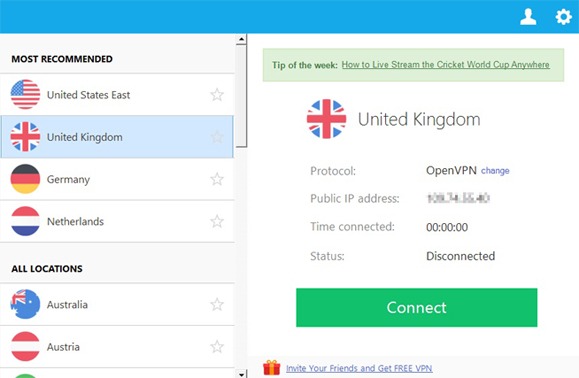 What's lacking is some of the more advanced options that can appeal to power users, such as specifying which server (rather than just which country) to connect to – although anyone desiring that level of granularity has the option to manually configure their connection using information in the knowledgebase.
Performance (Speed, DNS and IP Test)
SaferVPN is clearly a fast service: the speed test results we got were so close to our maximum normal bandwidth that we double-checked to see if the connection was actually encrypted. (It was.) Pleasingly, results were consistent across a variety of servers and countries.
| | | |
| --- | --- | --- |
| | | |
| UK server, no VPN. | UK server, OpenVPN. | UK server, L2TP. |
Unfortunately, the SaferVPN client is not as good at protecting against Windows' DNS leak vulnerabilities as some others, but most of our tests did come back OK. Concerned users can fix the problem themselves by manually configuring their system to use Google's DNS servers rather than their ISP's.
Other Platforms
SaferVPN provides bespoke clients for Windows, Mac, iOS and Android. The Mac client has recently been updated to closely match the Windows client in terms of both aesthetic and functionality, gaining several handy new options along the way such as protocol selection, automatic reconnection and even in-app speed tests. It's a nice update which makes the experience more consistent across the device, and also just plain makes the service easier to use for Mac owners.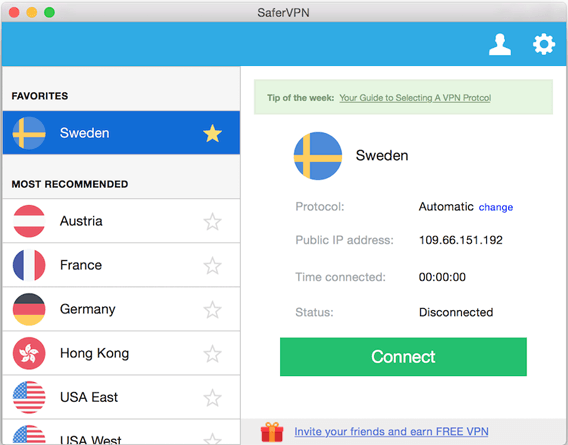 Android app
The Android client is also aesthetically very similar to the Windows one, though with significantly less by way of configuration options and information – there is, for example, no way of choosing (or discerning) which protocol is used.
We found downstream speeds on the Android app to be dramatically lower than on Windows, maxing out at 6Mbps on our 30Mbps connection. This isn't the worst speed drop we've ever seen on Android, but given it's a beta we'd like to see higher speeds and more information and options in future builds.
Other/ Free Services
SaferVPN has been in the news recently for launching an 'Unblock the Web' crowdfunding campaign, partnering with Advancing Human Rights and Movements.org to provide its VPN service for free to human rights activists living in countries subject to Internet censorship. While most of us probably won't qualify for this giveaway, it's great to see a company taking a stand for something they believe in.
Conclusion
Things We like about SaferVPN:
Excellent speed and reliability
Clean, easy-to-use client
No unnecessary collection of personal data
A nice-looking site that's easy to navigate
Well-integrated ticket support and 24/7 live chat
Apps for iOS and Android
Setup guides for a wide range of hardware
Some things we don't like:
Lack of technical options in the software client
Does not allow P2P / Torrenting
A lower amount of servers and countries than other VPNs (For example 700 servers compared to 3700+ you get on NordVPN)
SaferVPN's main weakness is that it does not allow P2P / Torrent access to all of its servers. Despite this, their easy-to-use client looks and feels great and has consistency across platforms, and there's an atmosphere of openness and customer-focus about their site which is refreshing – we particularly liked the fact that users are not required to hand over personal information to use any aspect of the service. Overall, SaferVPN provides a robust service with great speeds and an impressive range of supported countries, and if you don't do any torrenting, SaferVPN could be the right VPN for you. Visit SaferVPN »
SaferVPN
Starts from $2.50/month
Pros
Good Speed and Reliability
Well-integrated ticket support and 24/7 live chat
Apps for iOS and Android
Setup guides for a wide range of hardware
Clean, easy-to-use client
Cons
Does not allow P2P / Torrenting
They keep some minimal logs (Your IP, bandwidth usage)
Only 700 servers compared to other VPNs with 3000+